SUMMER KIDS CLUBJuly 13, 2016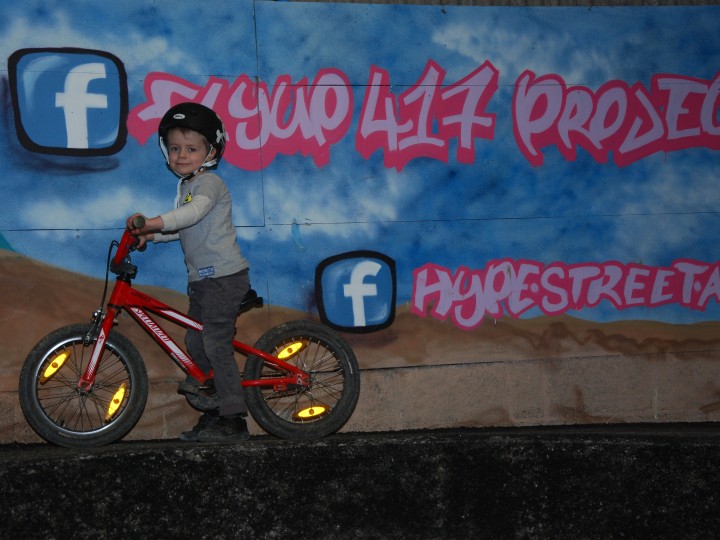 SUMMER HOLIDAY CLUB @ THE 417 BIKE PARK (Between Gloucester/Cheltenham) 
Are your 5-16 year olds looking for a summer of fun, riding their bikes, learning skills and making new friends?
We at the 417 Bike Park have just the solution for you. Our experienced coaches will help develop your child's technique, stamina and skills, using trails appropriate to your child's ability and on the UK's first indoor Velosolutions bike track.
Your child will develop plenty of new skills and ideas
They will benefit from the buzz of riding and hanging out with similar age and similar standard riders
We will help your child to put together a personal development plan for the day/week and there will be daily review sessions to help them reach their goals.
To achieve these aims, the courses are limited to those aged 5-16
Bike coaching programme, with instruction, including, Downhill & Pump Track and Skills Area
Maintenance tuition, teaching your child basic bike maintenance to keep them on the trails
Arts and Crafts / Messy Time.
417 Bike Park team members supervising your child for the duration of the day
Bike storage & Bike wash facility
What do they need to bring?
Bike(s) suitable for trails and pump track
Helmet (open face and full face if you have both)
Gloves
Suitable clothing and waterproofs
A small amount of pocket money (optional)
Apron/old clothes for messy time
Packed lunch & snacks and drinks or purchase lunch from café
Sun Tan lotion and hats
During instructed sessions in the Pump Track, Skills area and and on the Trails, coaches will be tutoring and staff will be accompanying the sessions.
In non-instructed time, staff will be supervising your child and organising activities.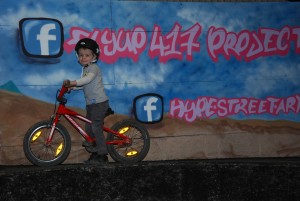 Coaching Sessions
Over the five days we'll look to include
* Efficient and controlled braking
* Bike handling and trail riding / pump track skills
* Riding berms
* Technical descending
* Power assisted front wheel lifts
* Manual front wheel lifts
* Bunny hops
* Drop off's
* Step downs
Should there be something specific your child would like to learn, then just let one of our helpful staff or Coaches know.
Bike Maintenance and Emergency Repairs (Youths)
* What to take with you out mountain biking
* Bike set up and maintenance & emergency repairs such as setting up gears, changing cables, problems with steering, problems with brakes
* What to do in an emergency
Messy Time
* Treasure Hunts
* Nature Walks
* Arts and Crafts
All our staff are qualified and experienced coaches with a great enthusiasm for the activities. They are experienced in teaching at all levels and most importantly, they have lots of experience helping people choose the level of adventure right for them. Small groups allow us to give you individual attention.
DROP OFF AND PICK UP
Sessions are Monday – Friday
Drop off 8:45am to 9:15am.
Finish time is 4:30pm.
LUNCH/SNACKS
Lunch/snacks are not provided. Please provide a packed lunch or money to purchase food from the onsite Café.
EQUIPMENT REQUIREMENT
Bike with hand brakes, no coaster brakes allowed for the trails. BMX or similar maybe used for the Pump track. Disc brakes recommended. Bike should be suitable to go on the trails – good working order.
A well-fitting helmet and gloves are a must. (Full Face recommended for the trails)
Elbow and knee pads recommended.
If you are unsure about any of the above requirements, please do call us for advise, we are happy to help.
BIKING ABILITY
Groups for beginner to advanced riders (please note depending on numbers beginner riders aged 8-12 may be placed in a younger age group).
Minimum biking requirement:
Have ridden comfortably on easy single track, family trails etc.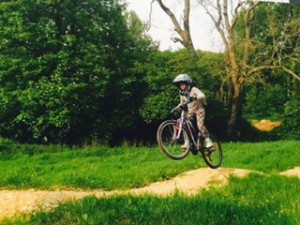 MEETING LOCATION
Kids Club. (Coffee Bar) – The 417 Bike Park – Crickley Hill Farm, Crickley Hill, Witcombe GL3 4UF
FACIILITIES
Trail Pass Included in price of program.
Pump Track Pass included in price of program.
TYPICAL DAY (Please note this is an example and is likely to vary)
Meet from 8.45 to 9.15am, groups will leave to ride at 9.30am.- please be on time and ready to go. Riding either on the trails, Skills area or in the Velosolutions pump track.
Beginner and Novice groups will mostly be riding the pump track and skills areas building up to riding on the trails, your child's coach will let you know when their group is ready.
Intermediate and up groups will ride trails suited to their abilities, Pump track and skills area.
Back out on Bikes 10.45am
Lunch will be at approximately 12pm.
Messy time / Bike Maintenance 1pm.
Back out on the Bikes 3pm.
Pick up is at 4.30pm at The 417 Kids Club and each child must be signed out by a parent. If your child will be picked up by someone else, please inform the coach or Staff in the morning. If you would like your child to sign out by themselves, please ask your child's coach for a sign out permission form.
We will be riding in all weather, so please make sure your child is prepared with rain gear and sunscreen!
DATES AND PRICES
Monday 25th July 2016 – Friday 29th July 2016
Monday 1st August 2016 – Friday 5th August 2016
Monday 8th August 2016 – Friday 12th August 2016
Monday 15st August 2016 – Friday 19th August 2016
Monday 22nd August 2016 – Friday 26th August 2016
£175 Per Week Mon – Fri 8.45-4.30pm
£40 Per individual Day 8.45am – 4.30pm
To Book you place, please give us a call in the office on 01452 864036 or email admin@flyupdownhill.co.uk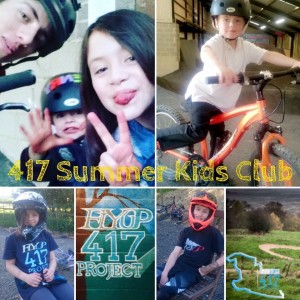 Categories

Archives

Recent Posts