Schwalbe British 4x Series – coming to the 417 Project!May 28, 2016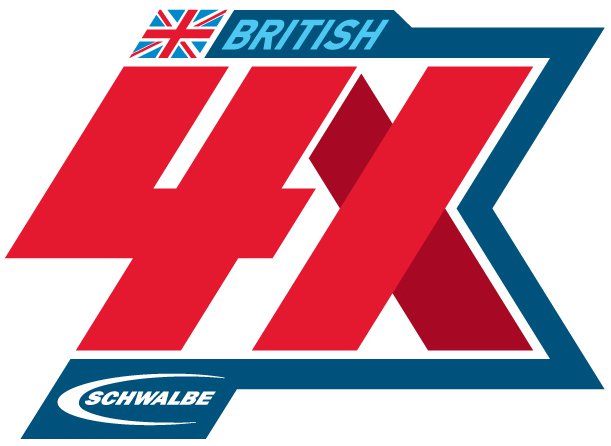 On the 2nd July 2016 the Flyup 417 Project will play host to round 4 of the Schwalbe British 4x Series.
4x is an awesome style of Mountain Bike riding, where 4 riders line up in a gate ready to go head to head on a track. There's no timing (unless you are qualifying at a championship) it's simply a case of getting to the bottom first! Its great for spectators and riders alike, where every pedal stroke and decision counts. 4x riders take no prisoners – if you hesitate for a second, you can guarantee your rivals will be taking advantage – making the most of every line available to get ahead.
Our track is a fun filled rollercoaster with big berms, pumps, drops and jumps – guaranteed to produce some action packed, adrenaline pumping racing!
The racing will be held on Saturday 2nd July 2016 – with riders taking to the track in the morning to learn their lines and warm up for racing, which usually kicks off around midday. Riders will be put through heats known as 'motos' in their categories before heading on in to the finals if they've been lucky.
4x is a great sport whether you're a beginner or seasoned pro. 4x master Scott Beaumont will be racing, putting the Elite men – including our Architrail hero, Duncan Ferris -through their paces in order to hold on to his numerous titles – with Natasha Bradley leading in the Elite Women so far. We are super lucky to have previous 4x Champions in our staff team too – with our Grounds Manager, Tom Gethin, having numerous wins and series titles under his belt; and our General Manager, Cara – who has ridden twice for Team GB in the 4x World Championships and was the 2014 Elite women's series champion. We could be lucky enough to see Tom show-casing on two wheels on the 2nd, however Cara is off the bike at the moment waiting for surgery on her knee… but we're pretty sure this is the only year she'll be letting anyone else win on her turf! Our Café assistant, Oscar will be taking part and putting the junior riders through their paces – we can't wait to watch the action!
Spectators are most welcome on the day – but please note that our parking is limited so please feel free to contact the office  on 01452864036 or admin@flyupdownhill.co.uk for advise on alternative parking availability.
Riders are advised to pre-book their parking space at £5 per rider, which also includes a day ticket giving racers additional access to the full outdoor facilities on the day – so on top of your racing you'll get access to the Downhill, Dual Slalom and Outdoor Dirt jumps – we'll even be running the uplift as a weekend-one-off until 8pm at £3 per lift.
Please ensure, if your racing, you book your parking space as soon as possible – as spaces are limited – by calling 01452864036 or emailing admin@flyupdownhill.co.uk
The 417 Project Café will be running all day serving hot and cold food – our full cooked breakfasts are a great way to head into a race day – and we will be open from 7am especially!
www.flyupdownhill.co.uk/directions /
Please note there is NO camping available on site. For information on local accommodation and camping options please contact our office.
For internet search references our postcode is GL3 4UF
Please also note the post code is not accurate if using it to get on site with a Sat Nav. Please use the following link for full directions.
You can find out more and register to race through Naked Racing and the British 4x Website. We can't wait to be a part of all the fun!! See you there!
Categories

Archives

Recent Posts