Mini Downhill Race Report Rd3February 25, 2014
Well the Mini Downhill came to the Forest of Dean again at the weekend, and the rain even held off to give a great day's racing.
The race was held on Corkscrew, one of the oldest and most established DH tracks in the forest. The top section is a fast, smooth swoop through the woods, with a couple of jumps to conquer, then over the fire road and in to the bottom section which is rooty, rough and natural – a big contrast over one track.
After rain was forecast everyone was ready to don the waterproofs, however rain stayed away for the whole day, apart from a patch of drizzle after lunch.
One of the biggest talking points of the day was the womens race, with Katy Curd pitting up against Tracy Moseley. It's rare two women at that level compete, and especially as they've been good friends for years, they were both looking forward to it.
In the mens racing, FlyUp rider Charlie Hatton again obliterated the youth field and clocked in the fastest time of the day. He's been on form so far this year in the local races, so hopefully he can carry the results into the BDS. Local Harry Barrett hit second place in senior, before hitting a tree in his second run and breaking a bone in his hand, so get well soon Harry!
Team riders Liam Jones and Seth Barrett deserve a mention too, with Liam's solid result in 4th place and Seth battling with bike issues all day but still coming in 9th place in Youth with only one problematic race run.
Here's Katy Curd's report from the day: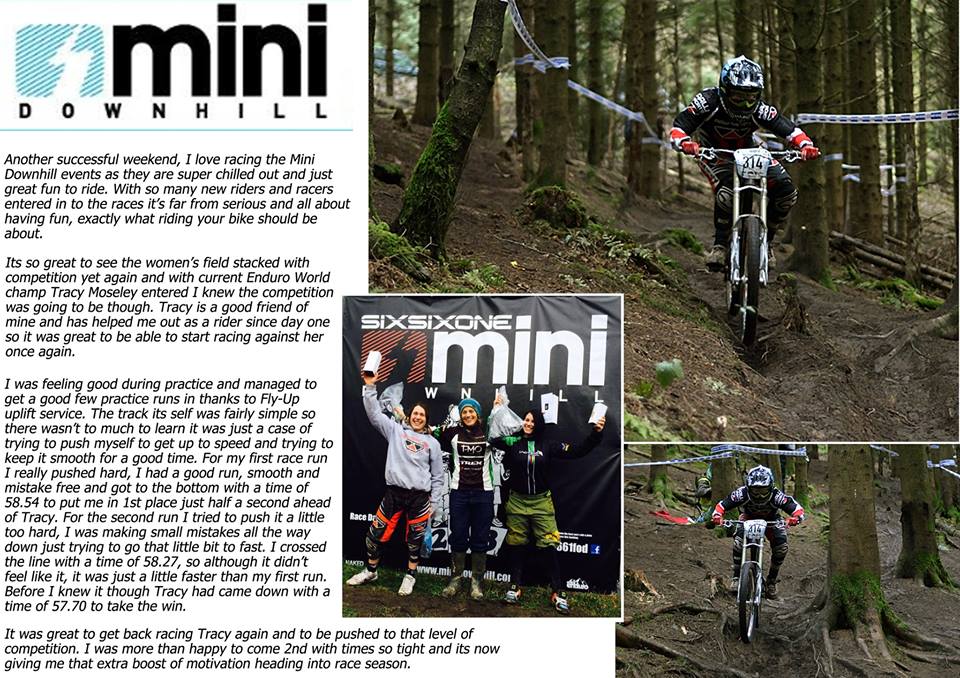 Categories

Archives

Recent Posts