FLYUP 417 PROJECT BIKE PARK
NOW OPEN!! – BOOK HERE


ABOUT THE 417 PROJECT
We are massively passionate about what we do, and have been working towards the Flyup 417 Project since June 2013. The shiney new bike park has now opened, we'll be continually developing the site creating the best mountain bike venue in the UK and in one of the most accessible places, just off the A417 in Cheltenham.
The 417 Project is the biggest privately owned mountain bike facility in the country offering a variety of riding disciplines within one venue.
The 100 acres of land is home to:
Three downhill tracks from blue to red and black grade, and supported by the slick uplift service you've come to expect from Flyup.
A national level 4X track
Dual Slalom run
MTB Drag Lift service (coming soon)
Airbag
One acre dirt jump arena
Velosolutions Indoor Pump Track
Indoor Dirt Jumps
Café and Coffee shop serving home made food, cakes, hot and cold drinks
A Leisure Lakes bike shop and workshop
Bike Hire MORE INFO HERE
Coaching MORE INFO HERE
Kids clubs/lessons MORE INFO HERE
Kids Birthday parties Please call 01452 864036 for more information
Stag and Hen parties  Please call 01452 864036 for more information
Corporate days Please call 01452 864036 for more information
Opening times
OPEN 6 DAYS A WEEK (CLOSED ON TUESDAYS) SITE OPENS AT 9.30AM – Please keep an eye on our blog for special events or unusual opening times.
Bike Park Location
Located just outside Cheltenham, Gloucestershire Flyup own 100 acres of private land to mould into the venue we all really want to ride. The bike park is located just below the hill up to the Air Balloon pub in Birdlip.
Flyup 417 Project,
Crickley Hill Farm
Crickley Hill
Witcombe
GL3 4UF
**PLEASE NOTE SAT NAV'S WILL NOT TAKE YOU TO THE SITE PLEASE FOLLOW THE DIRECTIONS**
For full directions please click on HERE. And click onto the Flyup 417 Project Tab
We do recommend booking to avoid disappointment but you are welcome to turn up to see if there are any spaces on the day.
If you would like any more information please call us on 01452 864036 or email admin@flyupdownhill.co.uk
Book your uplift
Featured Product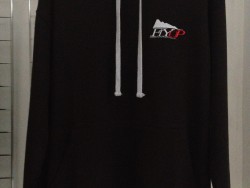 BUY
Black Flyup Hoody
Various sizes available
£24.99
Connect with us
Our regular emails are packed with great tips, advice and offers